Just like listening to Christmas music to get me in the holiday spirit, there are certain movies that invoke a special feeling in me around the holidays. Most of them I've been watching since I was a kid. I love them all for different reasons and watch them every year around this time.
Without further ado.. here are my
Top 12
Favorite Christmas Movies:
1.
Chronicles of Narnia: the Lion, the Witch and the Wardrobe
- This movie is incredible, imaginative, emotional, brilliant and stunningly breathtaking. The setting, the characters, the story. I wish I could play in Narnia's snow just for a day (without the threat of the White Witch of course) and have tea with Mr. Tumnus and visit Mr. and Mrs. Beaver... and of course see Aslan and... Yes. That would be quite a lovely Christmas present.
2. Harry Potter- I'm not too sure why I associate Harry Potter with Christmas, but I do. These passages in the books and scenes in the movies have always stuck with me. Christmas at Hogwarts? Yes please.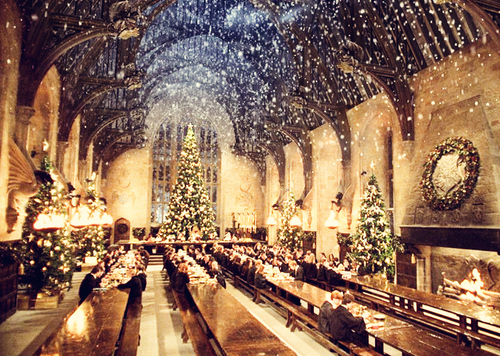 3. Home Alone- This movie has been a staple for both my brother and I. It's a tradition to watch it around Thanksgiving and again around Christmas. It's a classic in my book.

(I can just hear that high-pitched girly scream right now...I mean I don't blame the guy. THERE'S A HUGE FREAKIN SPIDER ON HIS FACE!)
4. Bridget Jones' Diary- I watch this movie AT LEAST once a month, usually 5 times a month. It opens up during Christmas and it ends again with SNOW! It's a perfect movie to watch around the holiday's and it is sweet and veryveryvery funny and I love it so much.


5. Just Friends - Sure, I'm a sucker for a good romantic comedy. So what? This one is also hilarious and cute and funny and awesome.
6. Love Actually - Now for a movie that makes me cry. This movie involves a lot of different stories around Christmas time that all intertwine and connect in someway. LOVE it. Here's one of my favorite parts that makes me sniffle:


7. The Family Stone- Oh man. Funny, heartwarming, heartbreaking. 
8. Rudolph the Red-Nosed Reindeer- This is my very favorite old Classic Christmas film. I've actually just watched this one last week. It's such a feel-good story.
9. The Santa Clause - Love Tim Allen. Love this movie.
(This movie is in color in case you didn't know)
10. The Nightmare Before Christmas- Sure. Some may argue that this is a Halloween movie. But I say NAY! First off it has Christmas in the title and it has Sandy Claws and Jack dresses up like Santa and takes toys to kids (albeit homicidal toys) but that matters not I say! Halloween or Christmas, this movie has something to enjoy for both holidays! Still don't believe me? What's This?
What's This??
11. Eight Crazy Nights - An animated Adam Sandler film involving both Hanukkah and Christmas.It's rude, crude and very funny with lovely musical numbers. And potty humor. Who doesn't like potty humor? NOW for Davey's song:

12. How the Grinch Stole Christmas - Does this film really need an explanation? If you don't like this movie perhaps YOUR heart is three sizes too small.







STINK! STANK! STUNK!